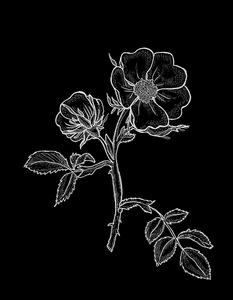 Wild Rose Pure Hydrosol
Regular price $19.00 Sale
SOLD OUT UNTIL 2024
Note: The past three years have been hard on the roses. First, the Spongy Moth munching on leaves and petals, then a hot dry spring, then the Rose Chafer Beetle decimating the petals. In accordance with ethical foraging, only a very small harvest occurred to allow plenty of petals to remain on the roses so that pollinators  could find their way to the flower and do their pollinator thing. This method appeared to be a success and each fall, the rose patch's were full of rosehips which I helped to spread the seed. 
Hoping that next year the roses will be under less duress and I will come prepared with soapy water for both the Spongy Moth and the Rose Chafer to reduce the population and let the roses thrive. 
Wild Rose Hydrosol makes for an ultra-cooling, anti-inflammatory spray for the skin. Use this hydrosol as your toner after washing your face, or as an after-sun spray. 

Store in the fridge for the ultimate refreshing spray on a hot day.
Makes a great mood lifter or room refresher.
Wild Rose petals of Rosa canina (Dog Rose) and Rosa acicularis (Wild Rose) were ethically harvested in small batches and distilled in a traditional copper alembic still. 
 This is as pure as it gets. Absolutely no preservatives or chemical nasties. Roses were harvested, distilled and bottled by yours truly. 
60ml amberglass // Expiry date on bottle // Store in the fridge.
COLD WEATHER DISCLAIMER: Email for possible local delivery in Parry Sound or Gravenhurst, or check with stockists. The Wild Rose Pure Hydrosol is prone to freezing during shipping. Please note that in purchasing you are accepting that risk. Extra care will be taken in packaging, and please consider carefully tracking your package.