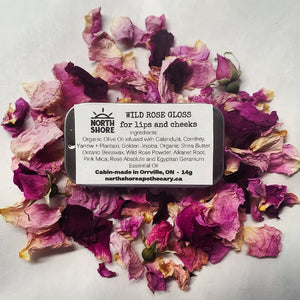 Wild Rose Gloss
Regular price $10.00 Sale
Yes, I made a lip gloss....out of powdered wild rose petals.
The roses used are the Shrub Rose (Rosa rugosa) that I was able to harvest from this season before it sadly got cut down. That means that this is a small batch product that I likely won't make again unless a similar scenario occurs next year.
This gloss is luscious. Use it for your lips and to add colour to your cheeks.
Lightly scented, silky smooth, very hydrating gently shimmery, and softly coloured. 
An homage to the rose, beloved around the world since time immemorial. 
Ingredients:
- organic olive oil infused with calendula, yarrow, plantain and comfrey
- golden jojoba oil
- organic shea butter
- ontario beeswax
- Powdered Wild Rose petals
- Alkanet Root powder
- pink mica
- Rose Absolute
- Egyptian Geranium essential oil